"I draw a map based on only my favorites places" 
– Japanese map artist, KamogawaYuka
Noodle shops, chocolatiers, bathhouses, the viewing spots for cherry blossom viewing… Local artist KamogawaYuka creates maps of Kyoto with various themes. Her maps are charming and witty, combining cute illustrations with personal reviews of all the locations as well as insider info on the area. And her maps are not the exception, in the flesh, she is friendly, fashionable and has a great sense of humor.
So let's learn about her and her passion for illustrated maps.
【Tell us more about you ]
Hi, KamogawaYuka. I always look forward to seeing your new maps. Can you tell me more about yourself?
Thank you very much. I'm a mom of two, ages 7 and 5 years old. I draw between parenting and housework, so places I can go are limited but I enjoy reflecting my love for Kyoto in my drawings.  
I'm originally from Osaka but after marriage, I moved to Kyoto. When my kids see my work, they make some comments like  "Oh cool! you are drawing cherry-blossom viewing spots this time!"
I notice that you have many maps around the Kamogawa river area? Any relation?
Correct. As I live very close to Kamogawa river, I chose my pen-name based on that.
How did you get started designing and making illustrated maps?
I have been drawing since I was a child. About a year ago, I started to draw maps, but before that, I had a completely different style with another pen-name. 
I have designed sake labels, cosmetic packages, textile designs, and even radio station brochures. But when my second boy was born, I started to think it was getting harder to draw girly style. 
Then I thought, "I love Kyoto and that's why we moved to live here. If I draw something about Kyoto,  I do not feel pressured and enjoy the process more." Eventually, my artwork moved to map drawing.
When I started my work with the name Kamogawayuka, I actually drew four-frame manga titled, "I started living in Kyoto." But I started struggling with the content and how to grow it…
At that time, a kimono rental shop asked me to draw a map. After I finished it, I thought drawing maps was very interesting. But since I had no experience, it was a very simple design. 
Then, I started researching what other maps looked like. I found very cute maps drawn by other artists. I thought it would be a chance to expand my abilities. Like that, I stopped the manga and started drawing maps of restaurants and public baths in Kyoto. The response on social media was good, and I have kept drawing for a year or so since then.
[What is your style? ]
You have gotten a great response in just one year. Is there anything you are particular about when creating a map?
I make sure that all the street names and locations are accurate. Street names are critical to show places in Kyoto, so if you make a mistake, so locals in Kyoto will take it very seriously. I can imagine them being upset. One more thing I'm particular about is to always ask myself: "Does this comment sounds real to me?"
I think comments and reviews that appear in magazines are perfect and easy-to-understand, but what I sometimes think they are not candid, especially if they are being sponsored. 
As for the maps I post on social media,  I think it's better for them to be biased so that readers can know, "Oh, this person has really gone to this place." So I introduce only my favorites in my maps. I don't want to include things that I have researched myself. 
So have you been to all the places drawn on the map?
Some maps include interesting events where I have not been yet. Besides that, I draw places where I or my family go. 
For example, the reason why I drew the bathhouse map is that my husband and children are big fans of  "Umeyu the sauna" and we often go there. 
When I wanted to visit more bathhouses in Kyoto, I could not find good maps. Then I thought, "If there is no map, I can create one based on my preferences. "
Do you have research sources when designing your maps?
My husband knows a lot about Kyoto because he works at a sightseeing company, so I ask him sometimes. For example, when I was drawing the cherry blossom viewing map, I asked him if he knew of any hidden or "off-the-beaten-path" places. 
I'm pretty familiar with many places, but sometimes when I need more information, I ask him for advice.
I really like the themes of your maps. But do you have a favorite?
My favorite map is the Setsubun map, the bean-throwing festival that happens in February. We throw beans to get rid of Oni-demons(bad luck) and pray for a happy and healthy life. There were various Oni-demons, so it was very fun to draw. 
Also, I notice that Kyoto locals feel very enthusiastic about those events.
I didn't know that there are so many events happening in Kyoto for Setsubun festival. That was so interesting!
I know! Just before the end of February, my husband said, "If you are going to draw something now, do a Setsubun map." I wasn't convinced completely, so I asked him, "Why do you suggest that?", and he said "Well, the most exciting event in Kyoto is the Setsubun festival. It's the equivalent to Halloween in Kyoto!" 
He kept insisting so much that I started researching and I noticed that it's famous with locals as much as the rest of Japan, being one of the 3 biggest festivals, like the Gion Festival. It was very interesting to find out that different shrines have different ways of presenting demons and the way they throw beans. 
Above all, when I released this map, I was happy to read comments like "I know of this event!", "Kyoto is the best for Setsubun festival!", "Wow! I didn't know Setsubun is this big in Kyoto!", or "I want to go!".
I get a lot of "likes" for chocolate maps on social media, but with the Setsubun map, I get a lot of comments.
[Tell us about your style! ]
I like your illustrations. They are so cute! Did you go to art school or something similar?
Yes. I went to a school where high school and vocational school were combined, but it closed I was in my second year. However, they had a system where if a student completed some assignments, they could graduate from high school. So, I did that and graduated. 
Since the number of teachers available was not enough and the assignments were in the form of self-study, I feel I didn't learn enough there. But, I also went to a painting class when I was little.
So I was mostly self-learner. I used other artists works as inspiration to replicate their style and learn from them.
I feel I only have the most minimum skills in regards to designing. I mostly  "fill in a square with colors", and I cannot use special effects. I learned tools such as Photoshop at a design office where I got a job after leaving high school.
So what tools do you use now to draw maps and illustrations?
I use Photoshop. Mostly I draw digitally, but I really like hand-drawing.  So I sometimes draw the lines traditionally and then I color the illustrations digitally. With some illustrations, I use Copic, Japanese markers.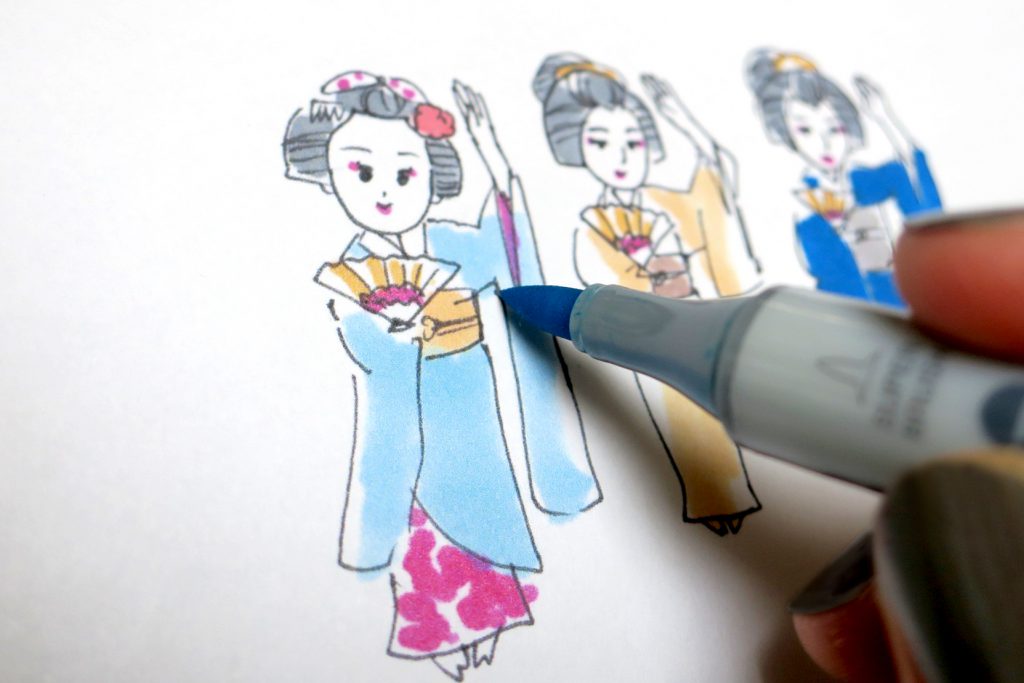 So you use a computer or a tablet?
I use my computer and my mouse. The lines are indeed hand-drawn. I scan them and color using the mouse.
I tried using a drawing tablet but did not like it much because It was hard to coordinate my hand with the screen. I want to try an iPad. I think it will be easier when I can use it well.
How long does it take you to finish a map?
If I have all the places I include in the map already finished, I can draw it in like 1 to 2 days. It takes some time to draw the base, and the rest is pretty fast. When I draw an illustration, I use pictures I take myself or pictures I found on the internet with good angles. I spent like 3 minutes on each drawing.
[Your maps and Stroly ]
What has been your experience using Stroly?
Well, I've gotten more responses from people outside of Japan on Instagram. When I kept uploading only in my account in Japanese, I gained many Japanese followers that love Kyoto. 
However, after using Stroly, I got more followers from overseas and comments left for me. I think it's time to study more English!
What countries did you get reactions from?
Mostly from English speakers, but once I saw a comment with a language I'm not familiar with. The translation said "A wonderful map!" 
【Share your expertise】
Some users have told us they want to start drawing maps but not sure how or they feel embarrassed to share their work. Do you have any advice for them? 
I think it is better to start by drawing a map of your favorite things. It could be food, real-life locations of your favorite drama, etc. Anything you like would be very good.
Your maps often include people characters. When I see them, I can picture some stories through them and I feel connected with them.
I feel that too. When I draw people, I feel that real life is being included in the map. Also, I really enjoy drawing people. The people that show up in my maps are my family, friends, and my neighbors. I ask them for permission to be included in my map. 
For work, I sometimes draw people that I don't know. I compare them to the characters in my maps, so I feel somehow I cannot be connected with them that well. When I draw acquaintances, I can totally see their postures or facial expressions in my head so it's really fun. 
So, if you want to draw people but you're not sure how, I recommend that you draw people you know well better than strangers.
[What's next to come]
What kind of maps do you want to draw in the future?
I want to draw a map of Buddha statues. There is one that is very good-looking for instance. Also, there are angles where a Buddha statue looks very attractive. I'm researching it now.
How often do you draw?
I want to release a map once a week. However life sometimes gets in the way, like my kids getting a fever or other stuff, and as a result, I can upload a map about once a month. 
Also, it has happened that I've been preparing a map for a specific event but while I am working on, the season is over and didn't upload it. 
I think it is a good idea to upload a seasonal event every month, but I'm not able to catch up sometimes. I really want to draw a Japanese sweets map …
Your maps are so lovely and I can totally see Kyoto through your eyes. It's a slice of someone's everyday life, so I see my response to them. I think that if more maps like yours are out there in the world, we can learn more about each other and feel more connected.
Indeed. There is a feeling of closeness. I would say magazine maps feel a bit "too official". 
I'm always fighting somewhere in my head saying "that information feels more like a guidebook". I tried to write my comments in my own words to try to make a difference. So thank you so much for your comment,  I would like to challenge myself and create more maps more based on this. I will continue to upload all my maps.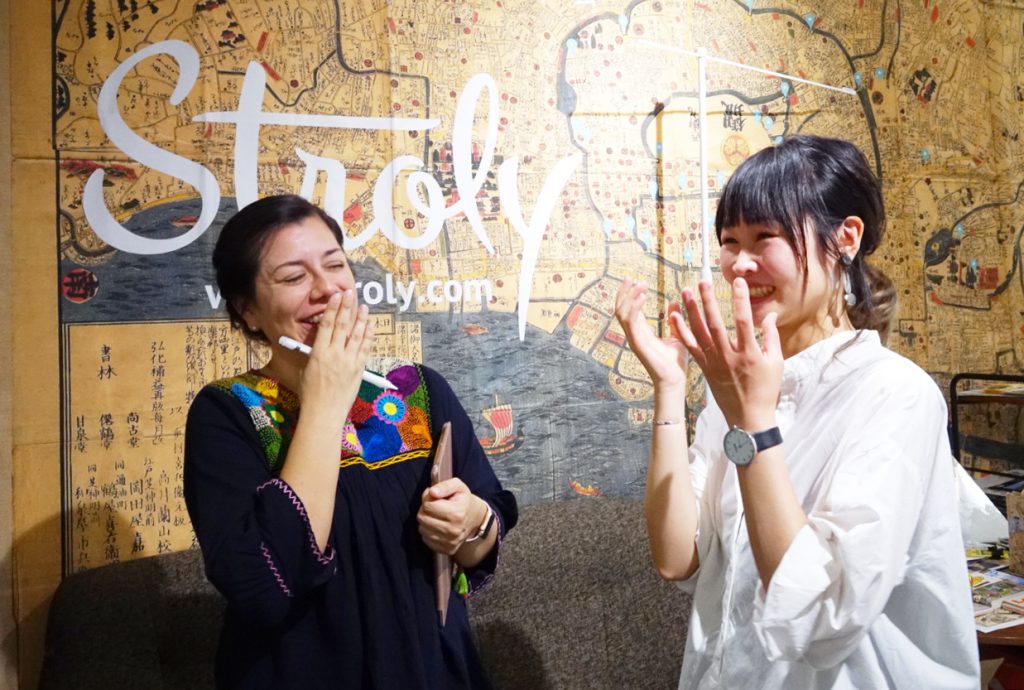 I am looking forward to them! It has been such a pleasure talking with you!
Including the maps we introduced here, you can find her map collection on Stroly. Make sure to take a look and find new ways of seeing Kyoto.
Find more about KamogawaYuka's work here: