Hey! Kaoru here.
How are you all doing?
The COVID-19 outbreak has kept us all focused since the beginning of the year, so much that I'm concerned about how this constant thread will impact us emotionally.
Many events around the world have been canceled or postponed as a precaution, including SXSW2020.
SXSW is an annual music, film, and interactive festival hosted in Austin, Texas, since 1987. Many events take place throughout the whole Austin downtown area.
SXSW is such a prestigious and well-known event that is mostly known as the gateway for any upcoming startup. An excellent example of this is "Twitter". After participating in SXSW 2007, it became famous all over the world. The Interactive part of the event takes place on the lapse of a whole week around the middle of March. Sadly this year, its 34-year tradition was interrupted with the cancellation.
We were in the middle of preparations for our second year attending when we heard the announcement. I won't deny we were a bit disappointed, but we understood. So today, I want to take this chance to introduce a collaboration map that was created for this year's event.
Please take a look!
SXSW2020


https://m.stroly.com/sxsw-2020/i#1582861572
This is a map of Austin, Texas, where SXSW takes place.
Austin is famous for its live music bars and restaurants, some even becoming sacred sites from music lovers. Many of the residents are musicians or artists themselves, making it a very art-loving city. The city's vibe is heightened during SXSW, making it THE place to be for culture!
Starting last year, Stroly became the official map sponsor for SXSW, and we were planning passionately to make a map for 2020 that would attract residents and SXSW participants on the spot. So we came up with a collaboration project with the street artist, Shinjiro Tanaka.
Mr. Tanaka is a multi-talented artist currently based in Tokyo. As a music producer assistant and dancer, he collaborated with Nile Rodgers & CHIC on stage. He also participated in the Heisei Nakamuraza Kabuki Troupe's performances in New York. As an independent artist, he established the "BSWK" apparel brand. He has held two solo exhibitions in Tokyo, then traveled throughout New York City for 30 days to paint at various locations in 2018. In 2019, an exhibition called "NYC Street Art Project" was held in Tokyo to share his experiences and artwork with the community. He also won the Art Battle Tokyo 2019 and displayed his works in galleries and streets in London.
His unique line art is not only found on canvas but also murals, apparel, digital art, and three-dimensional objects. We are very impressed with his uniqueness as an artist and his broad knowledge and devotion to music, dance, and street culture. Since we thought his style matches the SXSW concept, we requested him to draw an SXSW map of Austin.
One of the keys to his creative works is that the impression changes when you see it from up close and from far away. You will find that he has multiple different images spread out throughout his art. All of these individual images are connected to each other in a significant and interesting way, which makes the work of art even more mysterious and attractive.
Can you find the following hidden illustrations on this map? When you take a closer look, you can find a pizza, an ice cream cone, a guitar, a man's face, and other items. The details are so creative that I feel like I'm experiencing SXSW's vibe through this map.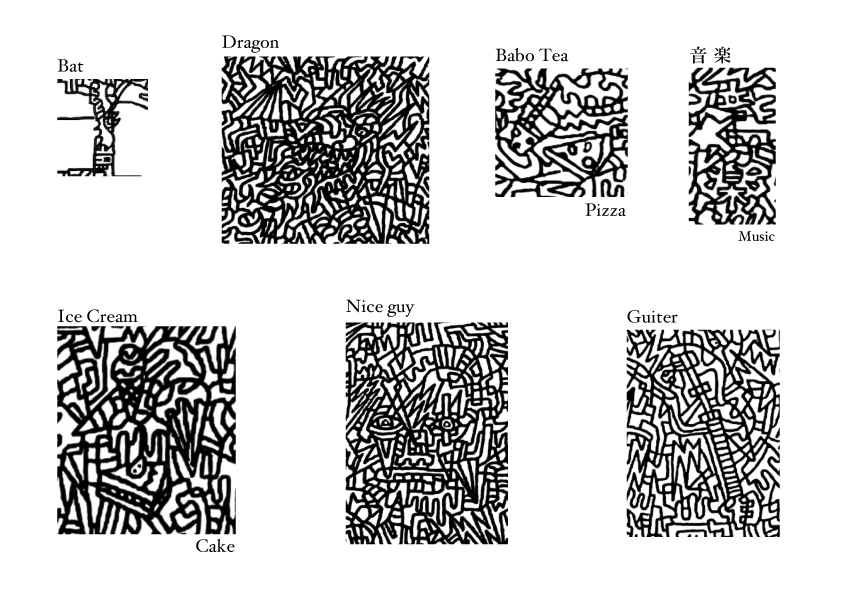 (There are many other hidden areas. Be sure to look for them!)
All the project members were impressed when we saw it for the first time. We were overwhelmed by the enthusiasm that reminded us of Austin. Personally, I was very excited and imagined the scenes of this map being used on the spot.
Let me dig more details where the excitement came from.
For a while now, Stroly has been holding many workshops, and together with the participants, we have been pondering about how Design, Art, and Mapmaking can influence each other.
We've analyzed many maps and noticed that
"The way we use a map and the experience we gain changes depending on how the map is drawn".
and on the contrary,
"The function of the map can change the way we see the art or design style".
The SXSW2020 map made us feel excited because the art and map interact together so actively. In other words, Mr. Tanaka's art completely destroys the stereotype of what a map should look like, and the art that is usually enjoyed by viewing it from a distance became something you can directly experience with Stroly's map technology. The synergistic effect Mr. Tanaka's artistic power and Stroly's techniques brought us made us imagine the potential the genre of Art Map has.
The effect of art on maps: "The Experience changes when map the changes."
We believe that if you use different types of maps, the experience and the world you see will change accordingly.
Let's say you want to visit a castle in a tourist area. To get there, you use a standard map such as Google Maps that displays buildings and landscapes, and once you are there, you use a map that tells you about the haunted places and history of the area. In each case, the impression you will get from the castle would change because each map can take you to totally different places. As a result, the whole experience for the trip can change. Similarly, walking Austin with a standard map and walking it with Shinjiro Tanaka's art map can change your entire experience. Even though I couldn't verify the effect in Austin, I'm eager to see the gap between using different maps in the next SXSW.
The effect that maps have on art: From two to a three-dimensional experience
Usually, when I see works in museums and galleries, I tend to try to understand the concept and messages the artist wants to deliver. Frequently, there is a physical distance between where I stand and the artwork. Of course, there are moments when I meet very intuitive and fascinating art, but I feel like I use my brain a lot. Does this happen to you?
Compared to many artworks exhibited in this way, the SXSW 2020 map can be viewed without the need for physical distance. This is because the art now works like an online map that can be accessed on your smartphone, and it's possible to walk on the art itself literally. Initially, a two-dimensional piece of artwork, you can now enjoy it in a three-dimensional space, connecting the art, yourself, and the physical space. By making the map available online, we can understand art more by involving our body and space.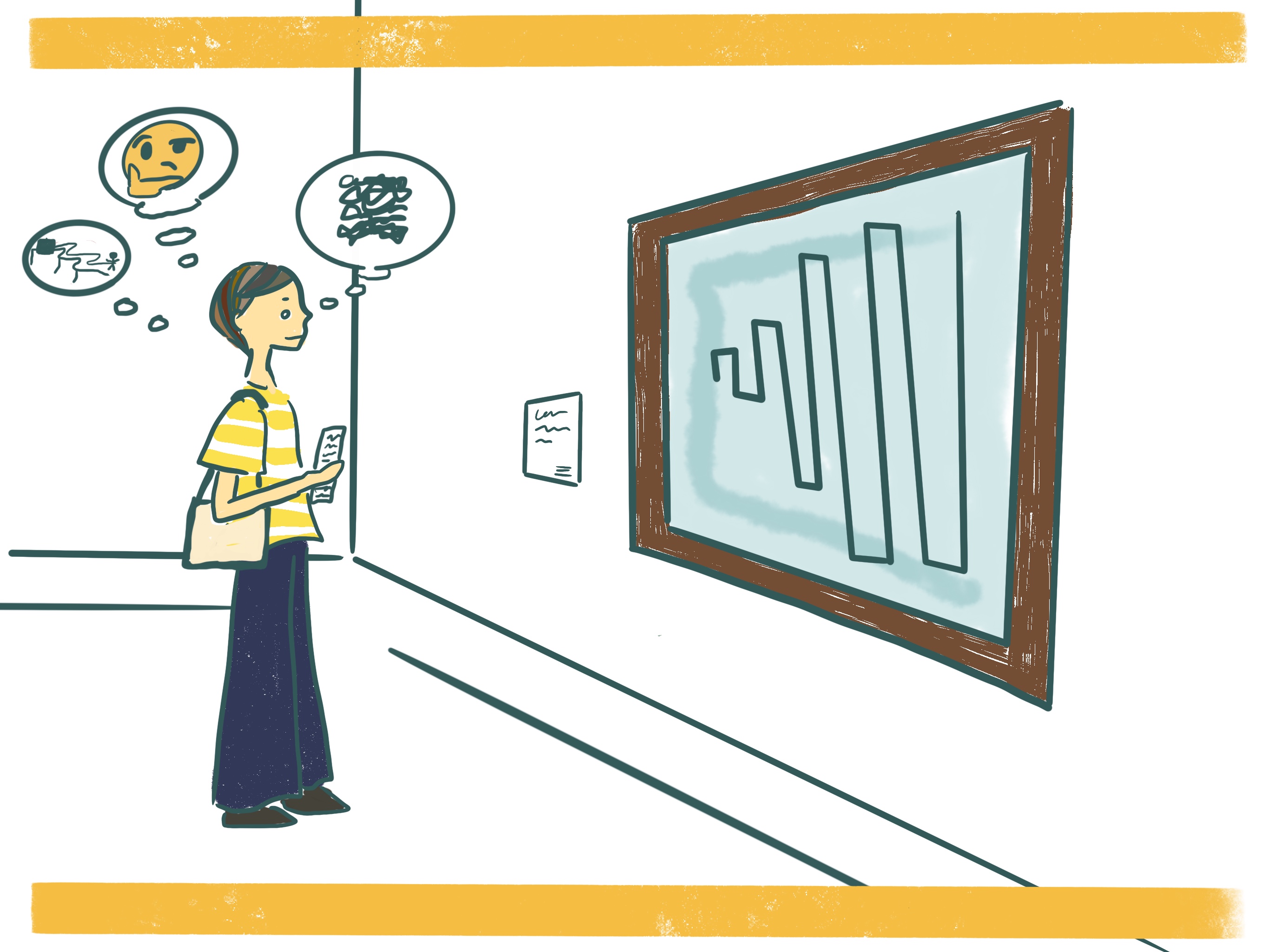 I think the SXSW2020 map became very enjoyable and engaging when we added our functions since it already had a powerful and creative depiction.
If you are heading to Austin for SXSW2021, I'd love you to try this map and walk around downtown!
Or, if you have a chance to visit Austin even for a completely different reason, give it a try and share your discoveries. Any message on Twitter, Facebook, or Instagram!
In the meanwhile, please stay safe and healthy.
I look forward to seeing you again.